CatCraft Server Updates v3.2-3.9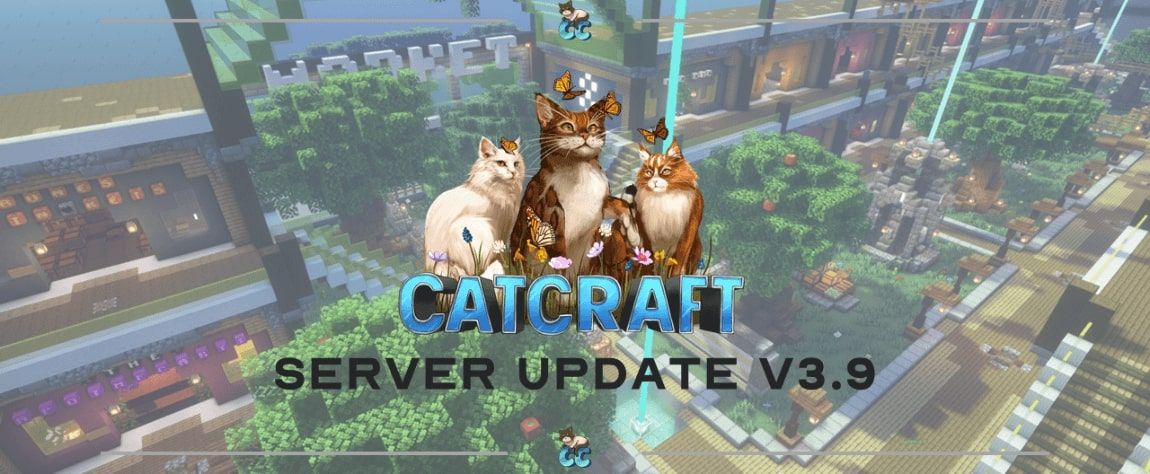 Hello Everyone!
Here is a compiled version of all updates on CatCraft from 3.2 to 3.9.
---
+ All weapons and tools textures for catgod items complete.

+ Catcraft Official Store complete redesign!
Complete server store redesign with new professionally custom made animal rank graphics, significantly faster loading times, and instant item/package delivery.

+ Dedicated Official Catcraft WIKI
A new, fully dedicated, super-fast official catcraft wiki release! The wiki will continue to be updated with new additions, improvements, and details on the history of catcraft.
https://wiki.catcraft.net
+ All CatGod Weapons+Tools fully complete.
Download from the #texture-pack channel on the CatCraft official discord server!
---
+ A beautiful Cat Café has been built in the game's world.
It offers a nice place to enjoy your favourite coffee or tea, among many different breeds of cats. Visit the Café's special menu of drinks and catnip treats at /warp cafe


+ New Cat Breeds (Custom texturepack)
Twelve new breeds of cats were introduced in the new catcraft texture pack. To download the texture pack, check out the channel #texture-pack on the discord server.
---
+ Resource-world Building Prevention

Notifications for placing chests in the resource world prevent new players from starting in a resetting world. Shulkers and all other containers will still work and are excluded from the notifications to allow everyone to transfer resources between the two worlds.


+Gradient Selector (Exclusive to Jaguar+ ranks)

Pick from a massive selection of 50gradients! Apply a gradient on your name or nickname by typing /gradient. This cosmetic perk is freely available to players ranked Jaguar+.


+Website Improvements

The website is now running off a different database centre and has had an increased speed boost, with faster page loading times, friendly URL support, integrated ban appeals using accounts created through the website and seamless on-site support ticket integration (releasing very soon!).


+Senior Management Support Emails
Dare_Run and LogicalSpirit now have their own catcraft emails. Dare_Run can be reached with dare@catcraft.net for questions relating to Minecraft and/or the discord server. Contact the Developer at logicalspirit@catcraft.net too or alternatively use bugs@catcraft.net if you would like to submit a bug report.


+ Minecraft Chat Bot
AI-based chat filtering addition. It prevents unwanted guests from joining the server and helps moderate the server during popular hours. The plugin currently does not keep track of any records, as it's still in its developing stage. We have been improving the whitelist filter to prevent the filter from blocking appropriate words and phrases.
+ Advanced Reporting System
Reporting system integrating into the discord server.
+ Wiki Updates (https://wiki.catcraft.net)
Added full mobile-support functionality, new site-wide theme and the market section.
+ Player-Markets
The CatCraft wiki site now includes a dedicated market section. Learn everything from creating your market stall, setting up chest-shops, obtaining a custom store banner, creating a successful passive diamond income, trending items/blocks to sell, and advertising your market stall.​
---
+ Minecraft Bedrock Edition support!
CatCraft is now accessible from players joining from Java, Windows 10, IOS, Android, and console edition. Use the default 19132 port to join at mc.catcraft.net

+ Durability disabled in the PVP arena
No more repairing after battles needed when pvp'ing in the server arena (/pvp).

+ Item mailbox
Send items to online/offline players!
/itembox open
/itembox send [player]
/itembox claimall

+ Easter Scavenger Hunt (Ends April 2021)
+ Significantly faster web-page loading speeds.

+ Books now show the date when it was signed.
+ Bedrock skins compatibility.
Minecraft bedrock users now support custom skins to allow Java edition players to see bedrock users' skins.
---
+ Market entire-redesign
Speed I effect covering the entire market
+ Pinata Vote Party!
Every time the server reaches a combined 150 votes, a fun piñata party will occur at spawn. The Piñata party will give free rewards for every hit, and once the game is over, all players who voted and participated in the party will receive free random prizes, with chances of including diamonds, gold ingots, iron ingots, cat spawn eggs, cat keys, dragon keys, and seasonal crate keys!

+ Biome Selector
Quickly teleport to the overworld and nether biomes using the /biome command.